DevsZone Develop a School Management System in Bangladesh called BIDYAAN for manage your school easily.
Increasingly Educational Institutions are facing challenges in proper organised communications and maintain to all Students, Parents, Teachers, Staff and Management. With Time table, Reporting, Attendance, HRM, Examination, Hostel and Transportation data. Read more on how DevsZone's BIDYAAN School Management System assist in achieving the desired results.
BIDYAAN School Management System is an advanced management software for school. This System is a complete hosted based solution. It has different types of users like Administrator, Teacher, Students, Parents, Accounts and Librarian. Our School Management System is All-in-One for your School. A dynamic website is integrated with this software. So you do not need to develop your website. A lot of modules are integrate in this system. SMS Module are also integrate in our system.
This School Management System is trusted as a easier School Management System in Bangladesh . Save time and money with easy-to-use software for Attendance, Scheduling, Time Table, Report Cards, Online Forms, Billing, Accounting, Web Portals, Mobile Apps, Library, Hostel, Admissions with Online Applications and Forms, Development and much more.
Modules of BIDYAAN-School Management System
Admission Management
Course/Batch Management
Attendance
Timetable
Examination
Events & Calendar
Reports
Fees
Internal Messaging
Human Resources Management
Transport
Hostel
Library
SMS
Student Portal
Teacher Portal
Parent Portal
Teacher/Staff Recruit Management (Online)
For know more information about BIDYAAN School Management System and Demo, please visit BIDYAAN's official website.
Here is the link: https://www.bidyaan.com/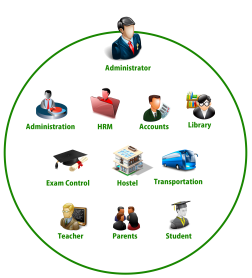 School Management System in Bangladesh